Podcasts, interviews & appearances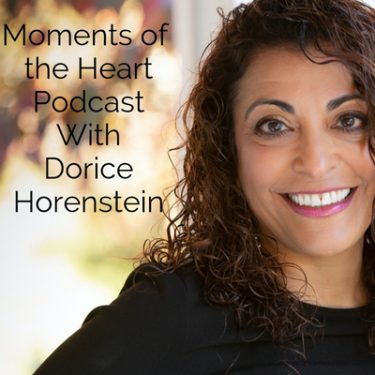 Moments of the Heart Podcast
In this podcast we will share, learn, and grow together – all with a Jewish twist! Open to all who want to be inspired! Join Dorice for her in depth insights,  wisdom, and conversations with incredible guests.  
learn and live your best life
Selected Interviews & Guest Appearances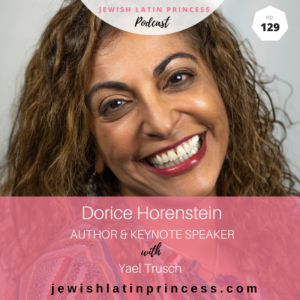 In conversation with Yael Trusch of the Jewish Latin Princess
Talking about Dorice's book and the immensely important four relationships to live whole-heartedly.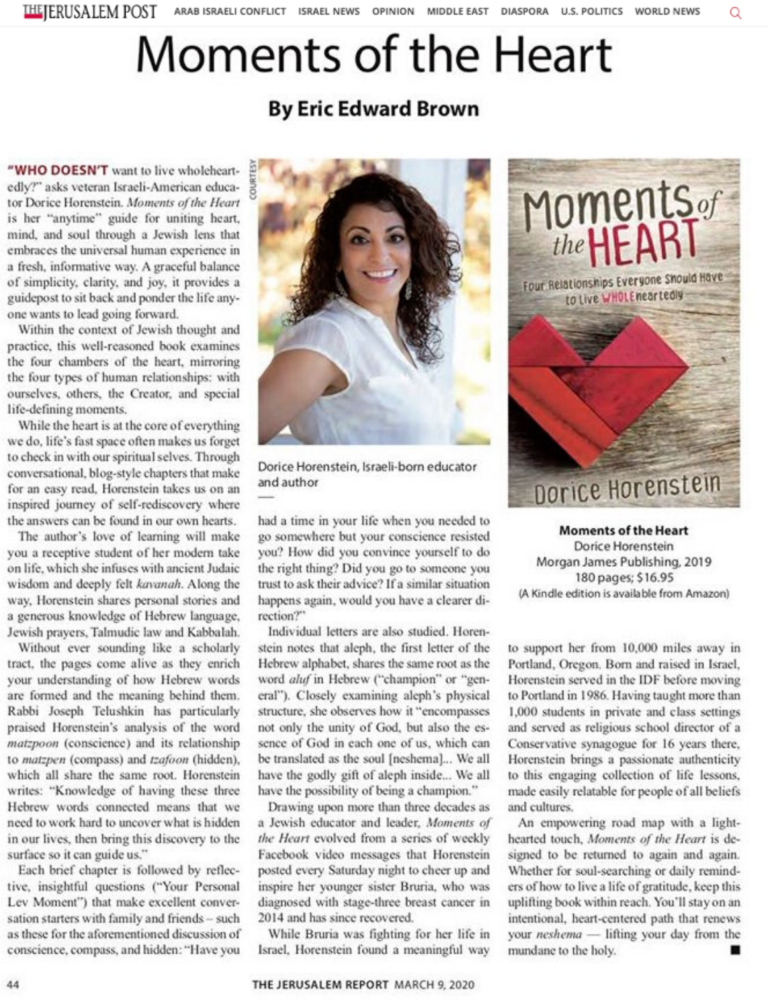 The Four Relationships Everyone Should Live Through in the Jerusalem Report
Drawing upon more than three decades as a Jewish educator and leader, Moments of the Heart evolved from a series of weekly Facebook video messages to an inspiring book.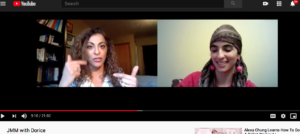 Interviewed with on the Jewish Mama Mashup
Dorice was invited to join the Jewish Mama Mashup Series by Jodi Fried along with so many other amazing Jewish Women! Treat yourself to some practical yet profound Jewish wisdom with Jodi's series!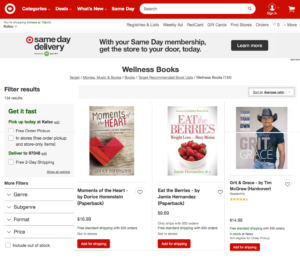 Moments of the Heart makes Target's 'Wellness Book' section!
Check out Target's Recommended Book List for "Wellness Books" where you'll find Moments of the Heart by Dorice Horenstein.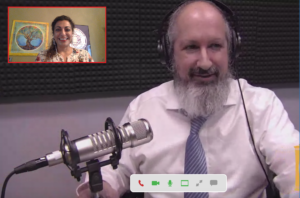 Interviewed on Let's Talk Torah
Catch Dorice on two interviews with Rabbi Tzvi Jacobson on the Hey19 live show of Let's Talk Torah. Rabbi Jacobson and Dorice have two fun and energetic conversations about our relationships and Torah. Check out these jam-packed conversations.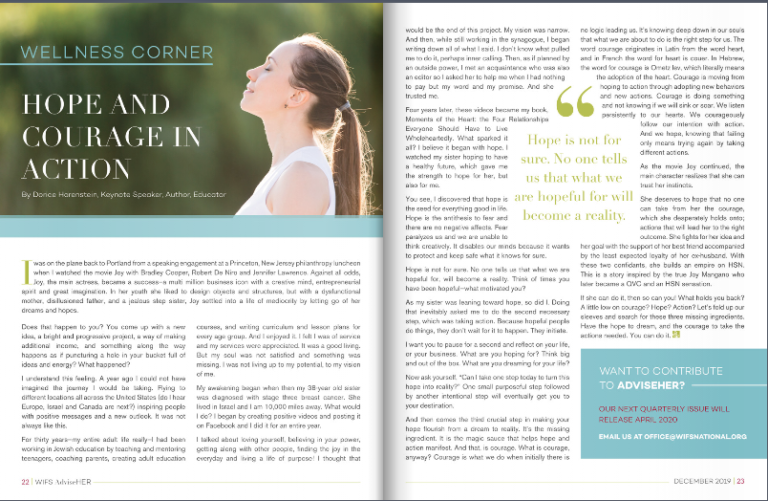 Hope and Courage in Action
Find your path to courage and hope and what's holding you back in Dorice's article featured in AdviseHer magazine's, Wellness Corner. Check out her article on page 22.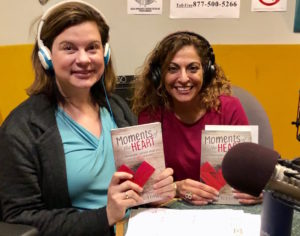 Portland author Dorice Horenstein talks new book and how to make the most of "Moments of the Heart"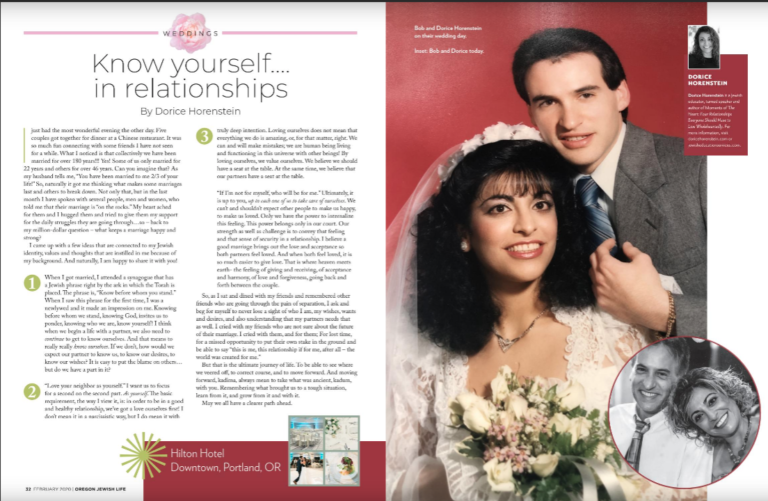 Know Yourself in Relationships
What keeps a marriage happy and strong? Read Dorice's own story of marriage to her husband and her incredible wisdom that has kept her marriage wonderful and fulfilling over the years even through tough times.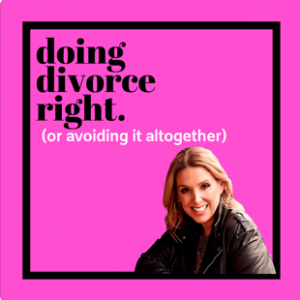 Forming A Better Relationship with Yourself
Dorice joins the podcast, Doing Divorce Right (or avoiding it all together). Dorice talks about: how you become the best version of you, the experience of writing a book, how to live wholeheartedly in your life.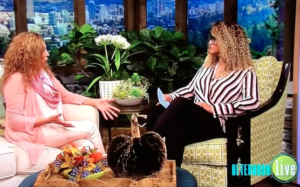 Afternoon Live with Dorice
Dorice joins Afternoon Live on KATU, sharing wisdom on living with gratitude as she talks about her newest book, #1 Best Seller Moments of the Heart!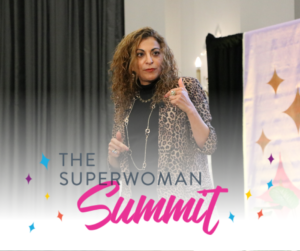 Superwoman Summit Keynote
In this keynote Dorice shares her three ingredients to get what you want in Life- Dorice's personal Life HAC- Hope, Action, Courage!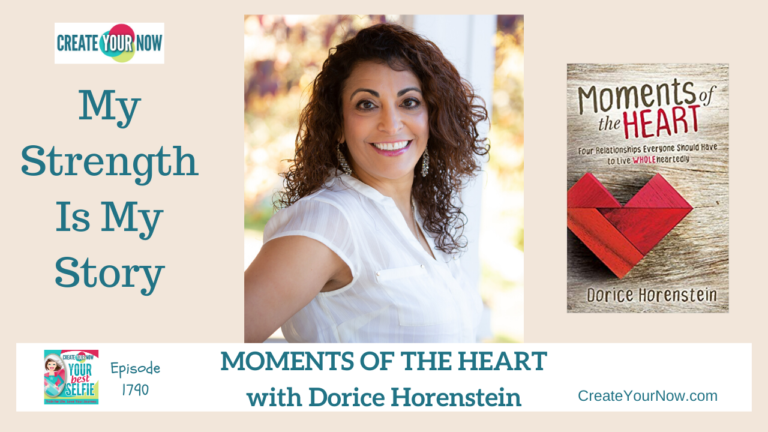 My Strength Is My Story with Dorice Horenstein
Enjoy the multitude of topics Dorice discusses on the Create Your Now podcast including Lev moments, a little magic, the Language of Intent, singing, and so much more.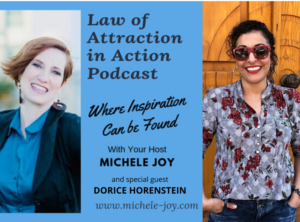 How Judaism Relates to the Law of Attraction
Dorice joins the Law of Attraction podcast, sharing her understanding of the Law of Attraction with her Jewish roots. Check out this wonderful conversation about gratitude, hope and courage.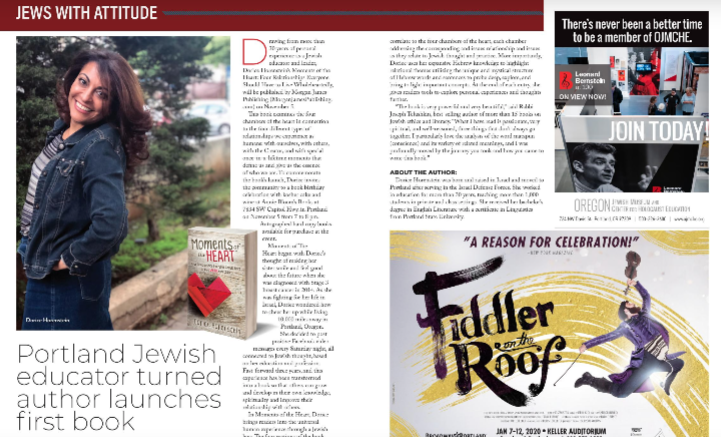 Portland Jewish educator turned author launches first book
All about the book! Dorice and her book were featured in the November/December issue of Oregon Jewish Life Magazine (page 10). Check out the article below. 
Interested in bringing Dorice to your workshop, conference or podcast?